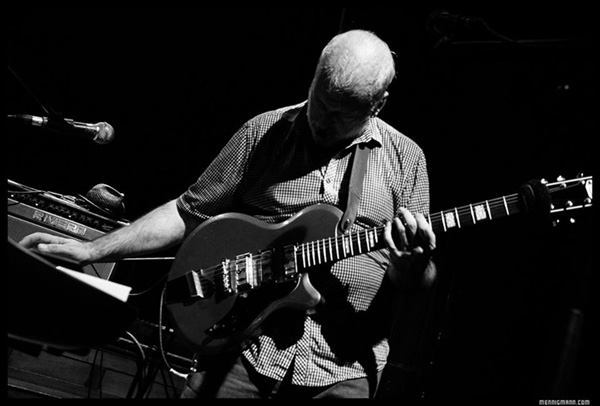 My friends!
MIKE KENEALLY BAND with CHAD WACKERMAN AT BAKED POTATO DEC. 29
I'll be at the Baked Potato in LA for one final 2017 show on Fri. December 29. This will be a special Mike Keneally Band show with Bryan Beller, Rick Musallam, and Chad Wackerman on drums who we are honored to share the stage with for these two sets. I very rarely get the opportunity to play with Chad – this will be only the fourth time since 1988 – so I'm looking forward to this greatly. We'll be doing some songs of mine that haven't been played in the USA for quite a few years…along with tunes by Jimi Hendrix, Frank Zappa and Pavement, plus a healthy dose of pure improv. I'm excited. Tickets await you at this juicy weblink.
JOE SATRIANI/G3 – ON THE ROAD NEXT YEAR with JOE TRAVERS
January 11 marks the beginning of the next round of heavy Joe Satriani activity. The band this time consists of Joe S., me, Bryan Beller, and none other than Joe Travers on drums! For as long as Bryan and I have been playing with Joe T., this is the first time we'll be doing anything close to this quantity of worldwide touring with him, and I'm looking forward to sharing this experience with him as he's one of my most favorite people. I'm very glad that so many new listeners will be experiencing his absurdly awesome drumming.
We'll be playing (as the youngsters say) "a heck of a lot" in 2018, starting with a bunch of G3 touring in the US and Europe. For the US leg (January 11-February 25) the other "G"s on the bill will be John Petrucci and Phil Collen from Def Leppard; in Europe (March 16-April 30) our bill-mates will be Petrucci and Uli Jon Roth. Will these be the guitar events of the seasons? Simply put, yep!
A couple of weeks ago we had a week of rehearsals, breaking in the new tunes from Joe S.'s new record What Happens Next and working Mr. Travers into the band. It's a very different show we'll be presenting this time around and it'll be a stone pleasure bringing it to a bunch of you. All the info you need to know 'bout these shows has been gathered up for you at this handy web portal. More dates for the rest of the year will be announced soon.
Let me wrap up with a couple of recent items of note –
NOTOPIA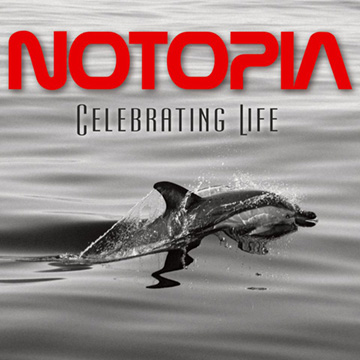 Last year while I was in Europe, right after touring with Jaan Wessman and Schroeder as The Mike Keneally Report, Jaan and I joined our friends Marc Mennigmann (keyboards), Peter Alexius (guitar), and Sven Kosakowski (drums) – the three of them are the nexus of an ongoing music project called NOTOPIA. The five of us convened for a couple of days of improvising inside of Goldsound Studio in Hohenlimburg, Germany. Marc then spent many intense months forming the best of the sessions into a wonderful album called Celebrating Life.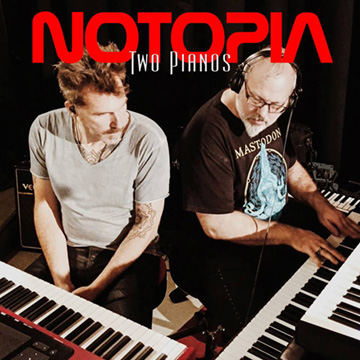 I asked the extraordinary Peter Hammill if he'd be interested in creating vocal tracks to go along with a couple of industrial-ish drones we'd laid down in the studio, which he did almost immediately upon being asked, and to absolutely astonishing effect. The album also contains outstanding vocal contributions from Mimi Ventura and Divinity Roxx. It is a special release indeed.
I played guitar for the vast majority of the sessions, but at one point I joined Marc at his keyboard station for two improvisations, which Marc fashioned into a separate release, Two Pianos. Together these two releases do a remarkable job of capturing the friendship and creativity at play in the studio. I hope you "enjoy the holy heck" out of them.
PANZERBALLETT – XMAS DEATH JAZZ
J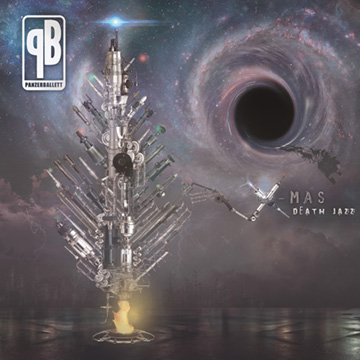 ust in time for this very special season, the brutally brilliant Panzerballett from Germany, featuring the ferocious and brilliant guitarist Jan Zehrfeld, has created a remarkable album called Xmas Death Jazz, containing extremely powerful and inventive new versions of some of your holiday favorites. I was most grateful to be asked to sing on "Let It Snow," which is legitimately one of my favorite Christmas tunes, and it was great fun to record my tracks at Double Time studios with Jeff Forrest, the engineer on my very earliest solo albums. You won't believe Jan's arrangement of this song, and you would do well to invite the magic of Xmas Death Jazz into your life, which also features guest performances from Mattius IA Eklundh and Jen Majura. Here's a page that Anthony Garone of Make Weird Music put together to celebrate the album.
BEN LEVIN/MIKE KENEALLY COLLABORATION
Finally, I was delighted that, last year while I was on the road with Beer For Dolphins, the quite unbelievably talented Ben Levin from Bent Knee made it his mission to find me somewhere on the road, set up his portable recording rig and capture some guitar work. We ended up meeting at the Rhode Island home of my friend David Brady on a Sunday morning, before BFD had to undertake a very long drive that day. With very little time to spare, Ben showed up, set up, and a sufficient quantity of guitar craziness was captured. I had no real idea what Ben would do with it – and what he ended up doing was THIS amazingly intense track, "The Gods Are All Right." Ben also did the animation for this video. It's phenomenal work. He is a creative powerhouse and I'm delighted to have done this collaboration with him, and hopeful that it leads to more. The track is available here.
DING DONG MERRILY ON HIGH
Yes the gods are all right and you folks are all right too, for reading this and for continuing to hang with my own ongoing story. Thank you for everything, happy holidays and let's all do what we can to have a fantastic 2018.
A big tall thank you also to Scott Chatfield for keeping these Keneallists going out to you for all these years, and for everything the "heck" else he does. Salute!
Now let's all have a good time!
Love to you and you and yoooouuuuu,
Mike
I have been to both Spain and Oklahoma!
And how are you doing? Are you sitting comfortably? Or perhaps you're at a standing, height-adjustable desk, just a-wheeling and dealing? Either way, I hope you're comfortable and happy.
Let's start with the near future.
On the weekend of November 4 and 5 I'll be at the Baked Potato for a couple of nights.
Saturday, November 4 finds Beer For Dolphins (quartet config. w/Beller, Travers and Musallam) back at the Potato for two sets. This will be the last MK/BFD excursion for 2017 so come celebrate all the holidays at once with us! Tickets can be found waiting patiently for you here. (The ticket page only lists the trio version of BFD but all four of us will be there, promise.)
On Sunday, November 5 the Potato presents the Kris Myers Band, featuring Kris Myers (superb Umphrey's McGee drumsman, and he's all over Scambot 2 and Inkling as well) along with me, Pete Griffin, Ben Thomas and Billy Steinway. Two sets of tomfoolery. We'll be playing quite the dizzying array of tunes including my all time favorite Tom Waits song. Your ticket to this whizbang event is accessible here. (Kris, Pete, Ben and I will soon be debuting another new original band, along with keyboardist Jonathan Sindelman. We presently have eight new songs in the works. More soon re: that action.)
Now, regarding the recent past.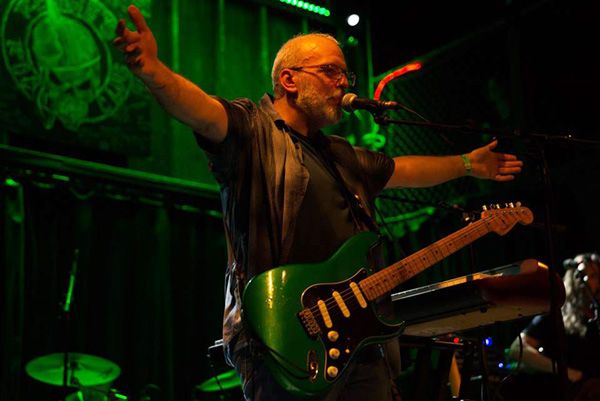 I was just in Chicago at Progtoberfest III at Reggie's, playing with BFD trio-style. I really loved playing this show – thank you Joe T. and Bryan B. (and Gentle Giant's Gary Green sitting in on drums for a jam!). The festival as a whole was great, studded with many pals and wonderful bands (it was really great to see, among others, The Tangent/Karmakanic, Thank You Scientist, a one-time-only Necromonkey improv collective, the band Abacab playing all of Seconds Out, Nili Brosh playing with Alphonso Johnson and Chester Thompson, and the Chicago Zappa Collective playing "Billy The Mountain" – holy cow I loved that). I had a great time sitting in with Frogg Café and The Don & Bunk Show (it was an honor to play for the first time with Don Preston and Bunk Gardner, and a pleasure to see and play with my buds Nick D'Virgilio and Ike Willis). And sharing a brief moment backstage with Gary Green and Martin Barre, reuniting more than four decades after their bands Gentle Giant and Jethro Tull last toured together, was a pretty indelible moment.
Hey, regarding Gentle Giant: a few weeks ago I attended my first ever GORGG. That stands for Global On-Reflection Giant Gathering and it's an annual meeting place for Gentle Giant fans the world over (and some Giant members also – Gary Green, Kerry Minnear and Malcolm Mortimore were in attendance this year), and it toggles back and forth between the US and Europe on alternate years, hosted each year by a different GORGGer. This year it was in Albuquerque, and the host Benjamin Harrison was kind enough to hire me to do a performance, primarily solo but I was delighted to be joined by Andy West for a good-sized handful of tunes, and by Anthony Garone who lent his acoustic guitar artistry to "Click" and Giant's "Aspirations." (My brother Marty and I recorded a version of "Aspirations" when I was 14 years old – can I convey to you how surreal it was to be playing it forty-ish years later for Gary, Kerry and Malcolm? No I can't.) (Speaking of surreal – the night after my gig there was an all-night jam wherein Gary and Malcolm played dual drums on "Pride Is A Sin," Kerry insisted I play keys instead of him on a version of GG's "Mobile," and I witnessed the Green/Mortimore drum duo with Kerry Minnear on bass powering a ZZ Top medley. THIS ACTUALLY HAPPENED.)
Oh! Also! Speaking of entities named ZZ! Between GORGG and Progtoberfest III this month, I found myself in Mill Valley, CA, attending the world premiere of Beyond The Supernova, ZZ Satriani's directorial debut chronicling the last year or so of his dad Joe's touring adventures, featuring me and Bryan and Marco doing what we do. ZZ really has done a fantastic job with this film and I think you'd all enjoy the heck out of it – eventually you'll get a chance to see it and I recommend you do. After the film premiere we shot over to Bob Weir's beautiful Sweetwater music venue and had a great time performing for 300 or so sweaty Satch fans. A lovely day/night at the theatre(s)!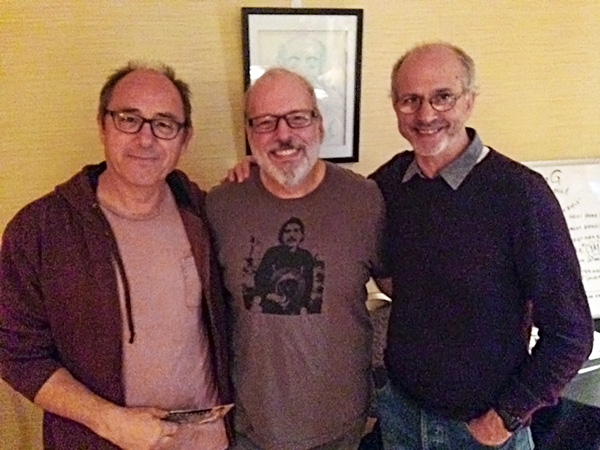 But back to GORGG for a sec: there are a couple of videos online which provide glimpses into some different aspects of what went down there…first is an interview that Anthony Garone of Make Weird Music conducted with Gary, Kerry, Malcolm and myself. What a singular honor to be interviewed along with these true heroes of mine. Anthony has posted a transcript, a video and an audio podcast of the interview so that you may consume it in any way that serves your needs. Thank you Anthony!
Also during GORGG, I performed an acoustic guitar duet with Alan Benjamin that originally was recorded by Alan's band Advent. My part was originally devised and performed by Greg Katona, whom I want to thank for coming up with such a challenging and beautiful part. I really enjoyed the process of learning and performing this lovely piece – thank you for inviting me to do so, Alan!
Anyway the moral of this story is: it's been quite a month ☺
Thanks for reading and I hope those of you within reach of the Baked Potato can make it there on Nov. 4 and 5. Stay safe. Don't let bugs bite you!
Love,

PS. Sending love and wishing peaceful rest to a beautiful cat named Solah – she had a guest vocal appearance on "Cat Bran Sammich" on Scambot 1 and did a really brilliant job – but more than that she was a wonderful personality and incredible presence. She will be very, very much missed.
Oh my friends! Listen up!
Next week I'll be at The Iridium in NYC for three nights, playing a bunch of wonderful Cream songs with my buddies Kofi Baker and Rob Pagliari. We'd certainly love it if you could join us. We shall not restrain ourselves in any fashion.
If anyone asks, the ticket links are here:
http://theiridium.com/calendar/
Loving you is easy 'cause you're beautiful,
Mike